There certainly was an understood response by those in California agriculture when Yahoo published their blog post, "College Majors That Are Useless," and listing Agriculture as the #1 most useless degree.
Between the blogging, the Facebook comments and the local media coverage, I'd say the article's author Terence Loose got more than he bargained for after he hit "publish."  I doubt he thought that this would be something that would catch the attention of CDFA Ag Secretary Karen Ross, but when it did, I think we all appreciated her weighing in on reality of Agriculture and its opportunities out here in California.
Secretary Ross' blog post is re-posted here with permission:
Future is bullish for Ag graduates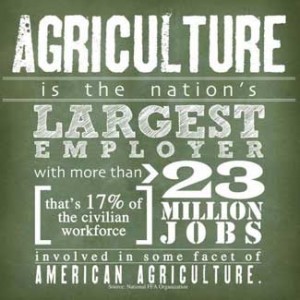 My email in-box lit up last week after Yahoo! published a story claiming that college degrees in agriculture are useless.  It certainly is a counterintuitive statement. Across our country, farming is hotter than ever. Agricultural exports broke records in 2011, and demand for local production of food made available through farmers' markets and other venues is an exciting trend that I firmly believe is here to stay.
The view from here shows a dramatic increase in farming-related job opportunities, and that's much more than young people on the farm. There are roughly 300 different kinds of careers in the food industry. It takes a lot of hands to grow, package, distribute and serve food to hungry consumers here and around the world. Many of the available jobs are unfilled because, as technology advances, there is a corresponding need for science and technical educational programs. The foundation to meet that demand must be built at the high school level and then extended into colleges and universities. Some of our best minds are working right now to address this issue. Agriculture needs young minds now more than ever.
In the meantime, as the Washington Post reported recently, Ag graduates are finding jobs. The Post referenced a study by Georgetown University's Center on Education and the Workforce showing that Ag graduates were among the most employable coming out of college.
So that Ag degree is very useful, and graduates will be highly sought-after well
into the future. Don't let anybody tell you differently.
This entry was posted in AG Vision, Agricultural Education, Community-based Food System, Food Access, Trade, Uncategorized and tagged Ag degrees, Ag exports, Ag job, education, jobs. Bookmark the permalink.